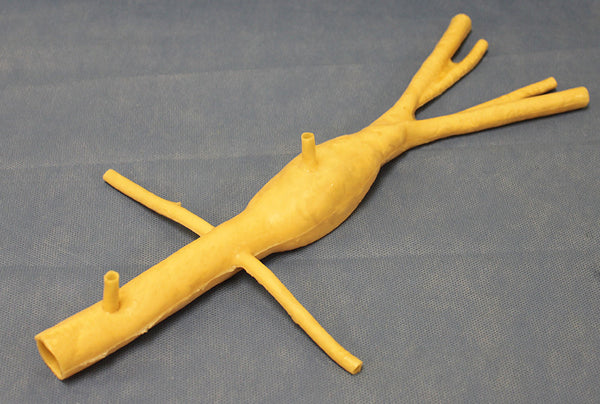 Abdominal Aortic Aneurysm (AAA) Model
LifeLike BioTissue's AAA Model
SUTURES AND BEHAVES LIKE REAL TISSUE
LifeLike's AAA Model cuts, feels, sutures, and behaves like real live tissue. Realistic and affordable product designed for the acquisition, practice and retention of open aneurysm repair skills.
Latex based AAA is also available to fit the AAA Abdomen Simulator.
| | |
| --- | --- |
| Single | $240(Regular) |
| 10-pack | $2328 |
| 20-pack | $4512 |
Product Includes:
Includes a 18" long AAA, with realistic anatomy including Iliac arteries, Superior and Inferior Mesenteric Arterries and two renal arteries , with a 50 mm aneurysm located between the renal arteries and the iliacs bifurcation. The back of the aneurysm has 4 Lumbar Arteries as well. The AAA can be ordered with an aneurysm at different locations to replicate different pathologies required for a realistic simulation training experience. The AAA Model fits the AAA Abdomen Simulator, as well as other commercially available AAA Abdomen simulators.
Use LifeLike BioTissue AAA Model for skills development training:
Open Aneurysm Repair Training – access aneurysm, train in all the procedures to repair the aneurysm, suture the graph and check for the quality of the procedure with the pulsatile pump.
Product Specifications:
One AAA Model
Thoracic Aorta
21 mm ID
25 mm OD
170 mm
Renal Arteries
4 mm ID
5 mm OD
50 mm
Common Iliac Arteries
9 mm ID
12 mm ID
110 mm
Aneurysm Approximately
55 mm Diameter and 90 mm Long
---
We Also Recommend